Rough Terrain Cranes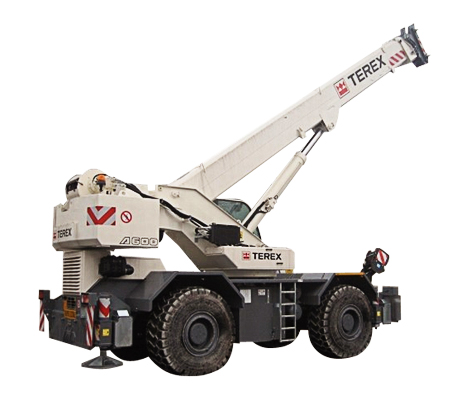 Terex A 600 Rough Terrain
60 Ton Rough Terrain Crane
A 60 ton mobile crane that outperforms 
The Terex A600 60 Ton Rough Terrain crane has a maximum lift capacity of 60 tons and a four-section full-power mechanically synchronized telescopic boom with a maximum length of 32.4m.
Terex rough terrain cranes offer the latest in technology, hydraulics, ergonomics and design making them extremely flexible, reliable, and able to be deployed for a broad array of tasks.
Laying lon g lengths of heavy steel pipe in the remote areas or stuffing, destuffing and loading heavy machinary or containers, the 60 Ton rough terrain crane is a real workhorse designed to work in extreme conditions. The 60 Ton rough terrain crane is an ideal day to day rough terrain crane for power plants, factories and warehouses that routinely move equipment, containers tanks.
If you need a 60 ton all terrain crane, we have a solution for you as well.
We offer a specialised container lifting machine, the container sidelifter for maximum efficiency in loading and moving containers up to 36 Tons.
| A-600 Quick Specs | |
| --- | --- |
| Max Capacity | 60 tons |
| Max Boom Length | 32.4 m |
| Max Jib Length | 20 m |
| Max Tip Height | 35.3 m |
| Overall Length | 12.75 m |
| Overall Width | 3 m |
| Overall Height | 3.66 m |
| Gross Vehicle Weight | 40.5 Tons |
| Max Travel Speed | 34 km/h |
| Max Engine Power | 149 KW |